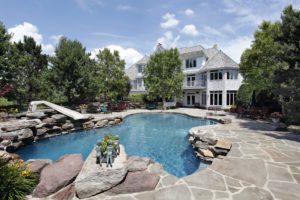 While the warmer, sunnier months may seem like the best time to hire a pool remodeling service in McKinney, you may be surprised to learn that the fall and winter are better for any updates to your pool. Here are three specific reasons why the out of season months are the best time to undertake a pool overhaul.
A late season pool remodel won't cut into your poolside playtime
It's no surprise that when your pool is being remodeled you won't be able to use it. This can cause some major frowny faces when it comes to friends and family who enjoy spending time around the pool instead of an empty cement hole. Committing to a remodel in the fall and winter months means more time sipping margaritas on a floaty and doing summer right.
Hiring a pool remodeling service in McKinney / Frisco can cost less in the off season
Believe it or not, most people still choose to remodel their pools in summer, which means there is an increased demand for pool remodeling services during this time. During the slower months of fall and winter, you may be able to negotiate a better deal on your pool remodeling service.
There will be less impact on your landscaping
Most homeowners are looking at doing a color change during the fall or making adjustments to essentially hibernate their landscaping over the winter. This makes it the perfect time for a pool remodel, since there will be minimal landscape to take into consideration, or any plants or shrubs that need to be removed were likely going to be replaced anyway. Timing your pool remodel in conjunction with refreshing your landscape can actually kill two birds with one stone, especially if there is any deck work or paving work you have planned for your new pool. Keep in mind, remodeling your pool will require a lot of construction workers and heavy machinery that will have an impact on your yard regardless of the time of year.
Beat the spring rush and take advantage of the winter months to tackle your pool remodel while everyone else is focused on the holiday madness. Allied Aquatics of North Texas is happy to provide professional pool remodeling, maintenance, repair services throughout North Dallas, Frisco, McKinney, Plano, Prosper, Celina, Allen, Carrollton, Denton, Flower Mound, Grapevine and surrounding areas. With over 20 years of experience, Allied Aquatics is your swimming pool service ally. Call us today to schedule your pool remodel at 972-439-9034.
Allied Aquatics Pool Service and Repair | Pool Remodeling Service McKinney / Frisco | 972-439-9034. Let us be your Frisco / McKinney Pool Service!